Celebrate With Us This Holiday Season!
Ever walked in to discover something like this?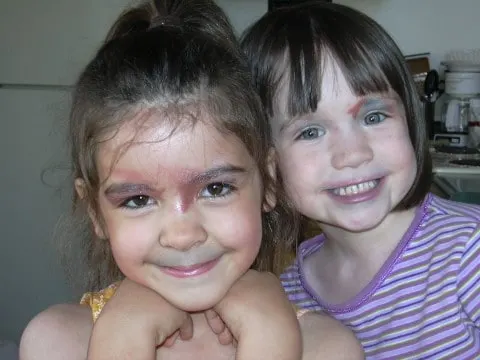 We have tried pretend makeup but it has quickly been abandoned. Why? Because it LOOKS fake! The girls know the difference. Mine have since they were small.
Lily Bug has an amazing line of pretend make up that will fool even the most savvy beauty diva!
See for yourself, can you tell which is real?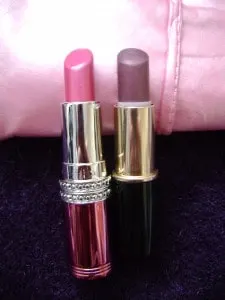 Pretty amazing, right?
How about on the pressed powders?
The entire line of Lily Bug Pretend Make Up is amazing. My girls have tricked their grandparents, friends and even me with its similarity to the real deal.
lily bug eyeshadow[/caption]
Lily Bug offers real cosmetic tools and brushes to accompany the kits. They really add appeal to the set and make it seem even more real. The Beauty Queen loves to comb her eyebrows and they both love the powder
brush.
Real brushes really add to Lily Bug Pretend Makeup[/caption]
Lily Bug Boutique is a great compromise it looks just like real makeup, but it is 100% fake and all mess free!
Take 15%* off your Lily Bug order using the code:
BLKFRDY15
Coupon is valid Black Friday, 12:01am EST through 11:59pm EST 11/23
*15% is valid through the Lily Bug website only, however, if you prefer shopping Etsy or Ebay you'll appreciate the 5% discount.
Get Social with Lily Bug Boutique through these links:
ONE Lucky Fan will win
Princess Makeover Set
39pcs Pretend Makeup/Children's Play Makeup Completely Mess & Mark Free NON-TOXIC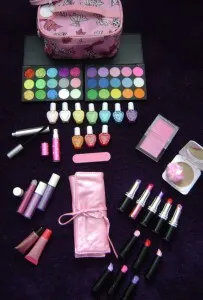 Lily Bug Princess Makeover Set[/caption]
This set is a limited edition and includes:
1 -Real Pageant tiara (not the cheap plastic ones, this one is the real deal!)
1 -Perfume (Completely empty, yet makes the perfume squirt sound!)
16 -Lipstick/gloss shades (Lipsticks roll up and down just like real lipstick!)
10 -Nail Polish colors
2 - 15 Shade Eye-Shadow palettes (15 sparkle color & 15 flat color)
2- Blush shades
1 -Pressed powder compact w/ mirror
1 -Pink powder puff
1 -Nail file (real file)
1 -Mascara tube (Completely empty)
1 - 7pc makeup brush/tool & brush carrying bag
1 -Princess makeup carrying bag w/ mirror
1 -Coin purse
For Rules and Disclosures of this giveaway, please see Rafflecopter form: Terms And Conditions. Open to US only, 18+ only. Miss Jackie's Views is not responsible for prize shipment.
a Rafflecopter giveaway