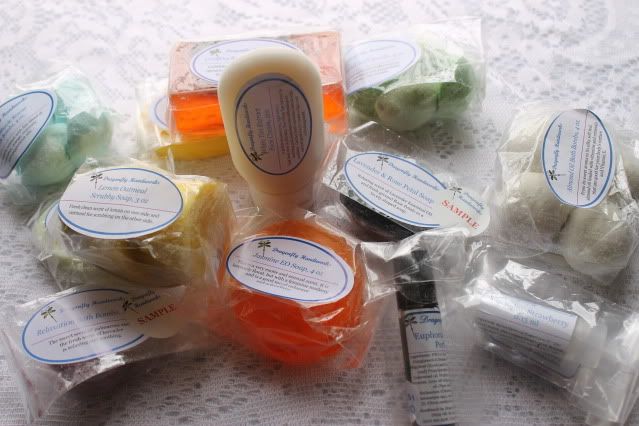 If you haven't heard of Dragonfly Handiworks check out the pictures and review of these high quality bath/personal care products. And don't forget to enter the giveaway at the end of this post, one lucky reader is going to win some great products from Dragonfly Handiworks!
Would you look at the wonderful assortment of handmade products that Dragonfly Handiworks sent me to review *points upwards*. I couldn't fit everything in my photos at once, there are so many. Since receiving this package I have had them in a basket by my tub. The kids found them and before I knew it they had talked me into a bath one morning. I let them knowing I would have to stick their dirty little bodies back in the tub at the end of the day. They attract dirt like nothing I've ever seen, but that's a whole other post. The kids love bath bombs as much as I do AND wonderfully scented homemade soaps. I'm trying to teach them about using all natural products while they are young so it will stick with them when they become adults. I managed to rescue my pack of sinus blend bath bombs from them in time. Barely! I'm going to mail them to my sister in TX as she has already had several sinus surgeries. I'm hoping and praying they will give her some relief. If so I know she will become a loyal customer.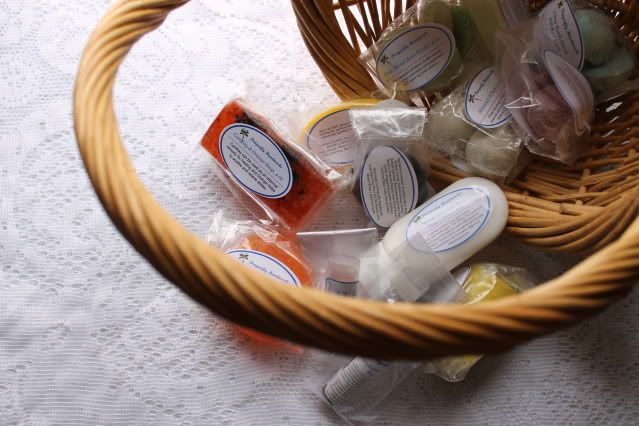 I received soaps of every kind imaginable. Relaxing scents, comfy scents, exotic scents, sweet scents, sensual scents and just about every scent that I can possibly think of. Not only did I receive hand soaps and bath soaps, I received lip balms in mango and strawberry (so yummy). I can never have enough lip balm because I go through it quicker than you could even imagine. I absolutely cannot stand dry lips. I also received an amazing assortment of bath bombs that are loaded with vitamins and minerals, scrubby soap made with lemon on one side and oatmeal on the other. I received face cream and perfume. It would take me a day to list everything I received. This company spoiled me. If only you could smell these....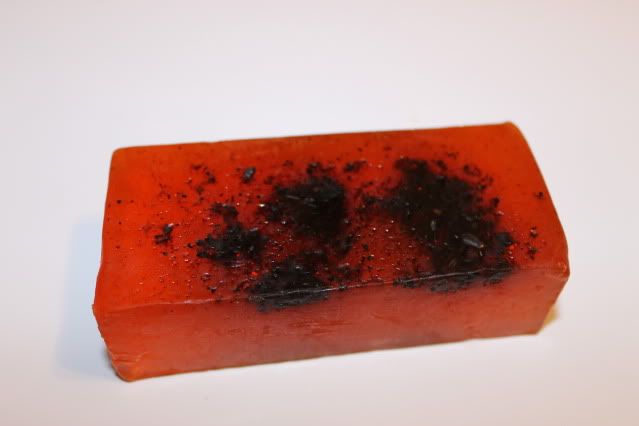 Of course I haven't been able to use all of the products yet but I have enjoyed each and every one I've used. They work just as well as I had hoped and even beyond my expectations. I really encourage you to visit this shop to see what all they have to offer. I believe in helping to support small companies especially when they offer so many useful and natural products as Dragonfly Handiworks does. There is something for everyone.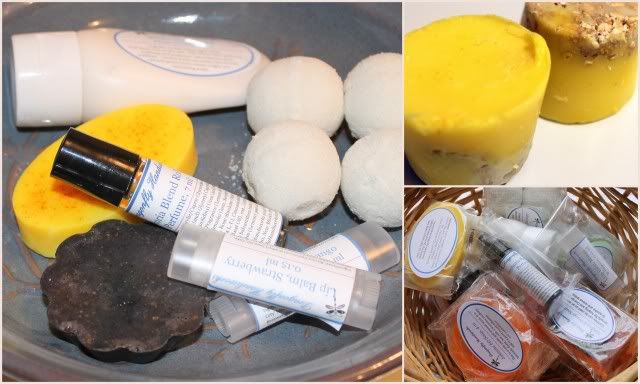 In the meantime, if you would like to win a mystery package from Dragonfly Handiworks, please enter using the rafflecopter form below.
Dragonfly Handiworks provides handmade natural bath and body products and crocheted items.
I do not know what the winner will receive (and wouldn't tell you if I did lol) but I believe you will be pleased with whatever it is. You must be 18+ to enter and live in the US. After you enter this giveaway, go claim your extra bonus entries into the "Ultimate Family Giveaway". The link will be provided on the form after you complete the mandatory entry. If you haven't been keeping up, each day there are 2 giveaways posted. One will go towards the ultimate family mystery giveaway, and the other will be a separate giveaway with a winner to be selected at the close of it. All giveaways are only 48 hours so you need to hurry to enter them. You won't be able to claim the entries for them into the ultimate family mystery giveaway after they end. If you have any questions, please use the contact form on the right hand side of each of my pages or send me an email to terrishaven@gmail.com
CONNECT WITH DRAGONFLY HANDIWORKS
Facebook
a Rafflecopter giveaway
Disclosure: I received the above mentioned products free to facilitate my review. Dragonfly Handiworks will be responsible for shipping a mystery package to the winner of this giveaway after all entries have been verifie